6.4.2021
Middle School Community Leadership for the 21st Century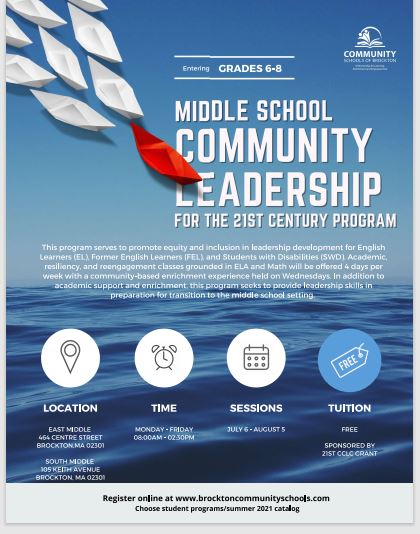 Enrollment is open for our Middle School Community Leadership for the 21st Century program which promotes equity and inclusion in leadership development for English Learners, former English Learners and Students with Disabilities.
Academic resiliency and re-engagement grounded in ELA and Math will be offered four days a week with a community-based enrichment experience on Wednesdays. In addition to academic support and enrichment, the program seeks to provide leadership skills in preparation for transition to the middle-school setting.
Please see the poster for more details. To enroll, go to https://bit.ly/3pq2JEt
Or see our website at: www.brocktoncommunityschools.com. Click on Student Programs/Summer 2021 Catalog.
---
5/27/2021
STEP UP STUDY AND FUN ENROLLING NOW GR. 4-8!
«
previous
6/14/2021
ENGINEERING IS EVERYWHERE ACADEMIC ENRICHMENT PROGRAM ENROLLING
next
»