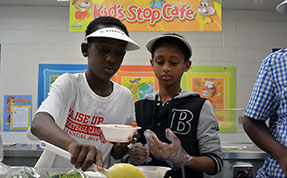 The purpose of the 21st Century Community Learning Centers is to establish or expand programs that offer students additional learning time and academic enrichment opportunities along with other activities designed to complement the students' regular academic program. In the Brockton Public Schools, there are four 21st Century Schools. At the Arnone, Baker and George Elementary Schools, students participated in after-school programs, such as robotics, reader's theatre, and garden club. Registration for these FREE after-school activities takes place at the beginning of the school year at each school.
At the Raymond Elementary School, all students receive extended learning time with an earlier start time each day and additional enrichment time two afternoons a week. These extra hours create opportunities for students to strengthen their English and Math skills during project-based activities and teachers to participate in professional learning communities.
Brockton's 21st Century Community Learning Centers programs are made possible due to grant funding awarded by the Massachusetts Department of Elementary and Secondary Education.
For more information, please contact Ms. Heather Arrighi, 21st Century Pathways Coordinator, at (508)894-4565 or heatherarrighi@bpsma.org.