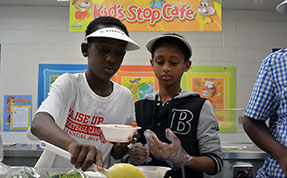 The purpose of 21st Century Community Learning Centers is to establish the implementation of additional learning time through out-of-school time programming.
Programming is designed to help close proficiency/opportunity gaps, increase student engagement, support social and emotional learning, and promote college and career readiness and success. The extra academic hours offered in 21st Century programming create opportunities for students to strengthen their English and Math skills during project-based activities and provide teachers with membership in professional learning communities.
The Brockton Public Schools is proud to offer 21st Century programming at seven sites: Angelo Elementary, Ashfield Middle School, Baker Elementary School, Brookfield Elementary School, Downey Elementary School, East Middle School, and South Middle School. Programming is typically offered four days per week, Monday – Thursday, for two hours each day. Registration takes place at the beginning of the school year at each school and is completely FREE for all programs at each site. Students are provided with a healthy snack prior to programming, and homework/technology support is provided to students each day that programming occurs.
Program offerings such as Robotics, Creative Story Writing, Book Club, Fun with STEM, Cooperative Games, Get Creative with Crayola, Yoga, Escape Room Challenge, Comic Book Club, Minute to Win It, Coding, Web Design, Rube Goldberg Adventures, Creative Dance, Financial Literacy, and Sports Analysis Through Statistics are just a few examples of some of the fun, engaging programming that students have the opportunity to participate in at these sites.
Brockton's 21st Century Community Learning Centers programs are made possible by grant funding awarded by the Massachusetts Department of Elementary and Secondary Education.
For more information, please contact Elizabeth-Ann Keane, 21st Century Program Coordinator, at 508-580-7595 or elizabethakeane@bpsma.org.