3.17.2021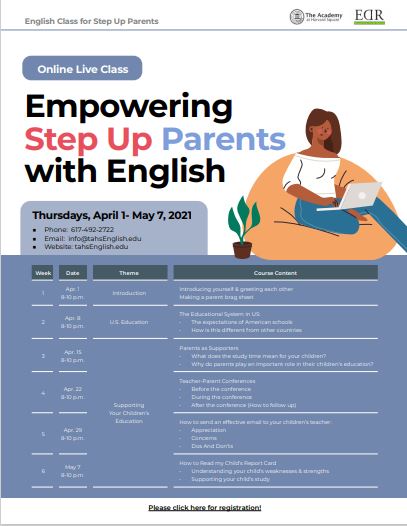 Parents, take a look at this class and sign up now! Just click on the link, and see the poster to the right, for more information.
Step_Up_Parents_Eng_Class_updated2.pd
Learn about the educational system in the US and how it is different from other countries.
See why parents play such an important role in their children's education.
Understand how to prepare for, and attend and interact in the parent-teacher conference, and follow up after one, and more.
This is a critical learning experience so don't miss out.
Click on the link below to register:
Step Up Parents English Class (google.com)
---
3/10/2021
EXTENDED DAY PROGRAM HAS REOPENED!
«
previous
3/19/2021
STEPS TO FINANCIAL FREEDOM FOR BPS PARENTS
next
»