508-580-7638 | » Email Dr. James Cobbs, Principal/Executive Director of Operations, BPS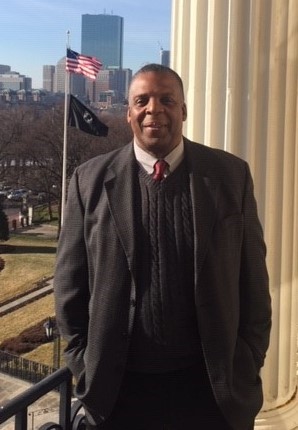 Dr. James Cobbs has served as the Principal of the Thomas Edison Academy since 2013, and was also the principal of Champion High School and the former BB Russell Alternative School in 2014-2015, managing the daily operations of three schools on two campuses, including staff hiring, evaluation, supervision and student life. Jim has 20 years of experience as an educator including experience as a teacher and Assistant Principal in Boston Public Schools and Principal of a grade 5-12 charter school in New Bedford, MA.
Additionally, in 2011-12, as a US Army Executive Officer, Dr. Cobbs oversaw a yearlong deployment in Kuwait, the Second-in-Command of a deployed Transportation Battalion, facilitating redeployment of troops from Iraq. He served a total of 35 years of active and reserve military service in engineering and transportation units.
Dr. Cobbs also oversees the facilities department and is the district's liaison for Massachusetts School Building Authority projects, as well as school safety and security. He is the liaison with the Mayor of Brockton's office and other city departments. Dr. Cobbs has a long history of operations, facilities and construction management, not only as Executive Director of several nursing homes, but also including running his own electrical contracting company for 15 years before becoming an educator and has 44 years of construction and electrical experience.
He holds a Master Electrician's License, a Nursing Home Administrator License, has earned a Master of Education degree from Cambridge College, a Master of Arts degree in Organization Development and a Ph.D. in Human and Organizational Systems from the Fielding Graduate University in Santa Barbara, CA; along with a range of other certifications.